During my travels around the world I discovered that living on our planet means to respect it and understand that every human being is connected regardless of their origin.
Through my painting I try to show this plurality which makes our richness and the beauty of each of our cultures. Street-art being an inclusive art, allowing to share a work with the passer-by, it is the medium that I have chosen to express myself and share these values of sharing and unity.
What impacts me the most during my travels are the encounters, a face and a look say more than a thousand words, and my portraits freeze this moment of communion to transmit it to the viewer and make him react.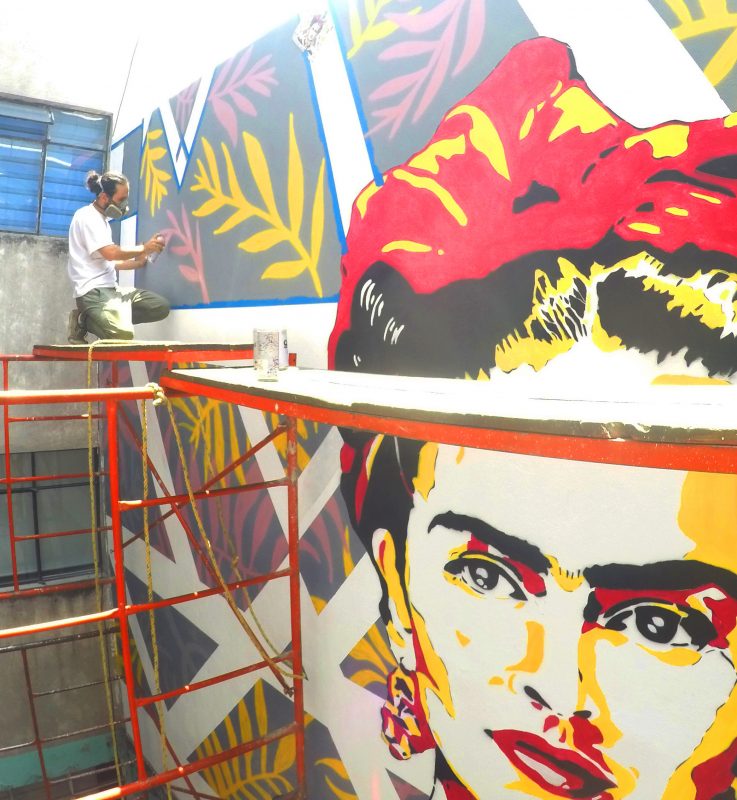 Valérian Lenud, or Valé, is a French artist born in 1990.
Now based half year in France and the other in Mexico after a decade of travel,
 Valé has developed an aesthetic that combines figurative compositions
with pop-graffiti styling, both as murals and canvas artworks.
With a strong compassion and belief in human spirit,
his works can be seen as a mirror to our common humanity.
Combining various techniques, his work is primarily constructed with numerous layers of hand-cut stencils,
painted with a mix of aerosol, brushes, palette knives and markers.
Within this practice he combines chaotic shapes and graffitis with subtle shading stencils to achieve captivating portraits.
Valérian's work contrasts recognizable pop-iconography
with local culture imagery in order to portray the multifaceted identity of each culture he encounters during his travels in more than forty countries.
A big part of his work is based on his own photographies taken
during self made social projects with communities such as Massaïs, Mayans, Quechuas or Sadhus.
This juxtaposition pays tribute to urban art by contrasting the grey of the streets with the intense colors that represent the vibrancy of life.
Valérian collaborates with galleries, social projects, festivals and brands.
His artwork can be found in France, Monaco, New-York, Japan, Norway, Netherlands, Spain, México, Argentina, Chile and Colombia.
To name some places, he exhibits with Galerie Saint Martin in Saint-Tropez, Courchevel and Arcachon, ArtsRange in Honfleur, with Urban Art Signature in Miami, Carré d'Artistes in New-York and Amsterdam, Baga06 in México;
He has been covered by Forbes, StreetArt NYC, Konbini, C'est de l'Art, Cultura Colectiva and commissioned for projects with Jaguar Land Rover, Montana Colors, Comex or Santander.